100 Theme Challenge!!!



Done

Not Done

Half Done



1. Introduction
2. Love
3. Light
4. Dark
5. Seeking Solace
6. Break Away
7. Heaven
8. Innocence
9. Drive
10. Breathe Again
11. Memory
12. Insanity
13. Misfortune
14. Smile
15. Silence
16. Questioning
17. Blood
18. Rainbow
19. Gray
20. Fortitude
21. Vacation
22. Mother Nature
23. Cat
24. Time is running out
25. Trouble Lurking
26. Tears
27. Friendship
28. Sorrow
29. Happiness
30. Under the Rain
31. Flowers
32. Night
33. Expectations
34. Stars
35. Hold My Hand
36. Precious Treasure
37. Eyes
39. Dreams
40. Dragons
41. Teamwork
42. Standing Still
43. Dying
44. Hate
45. Illusion
46. Family
47. Creation
48. Childhood
49. Stripes
50. Siblings
51. Sport
52. Deep in Thought
53. Keeping a Secret
54. Tower
55. Waiting
56. Murder
57. Sacrifice
58. Kick in the Head
59. No Way Out
60. Rejection
61. Dance
62. Magic
63. Do Not Disturb
64. Lovers
65. Horror
66. Traps
67. Playing the Melody
68. Hero
69. Annoyance
70. Bound and gagged
71. Obsession
72. Mischief Managed
73. I Can't
74. Are You Challenging Me?
75. Mirror
76. Sexy
77. Test
78. Drink
79. Starvation
80. Words
81. Pen and Paper
82. Can You Hear Me?
83. Heal
84. Out Cold
85. Spiral
86. Seeing Red
87. Food
88. Pain
89. Through the Fire
90. Triangle
91. Drowning
92. All That I Have
93. Give Up
94. Last Hope
95. Advertisement
96. In the Storm
97. Safety First
98. Puzzle
99. Solitude
100. End

Kopier das wenn du auch so bist:

-Wir laufen beim Zähneputzen durch die Gegend.
-Wir lachen über unsere eigenen Witze bevor wir sie fertig erzählt haben.
-Wir brauchen keine Uhr, wir haben ein Handy.
-Wir versuchen wenn wir im Bett liegen, Muster an der Decke zu sehen.
-Wir lästern nicht, wir erörtern Tatsachen.
-Wir können uns einen Satz 10x durchlesen ohne den Sinn zu verstehen.
-Wir drücken an Türen auf denen dick und fett "ZIEHEN!" steht.
-Wir fragen "Was?" obwohl wir alles verstanden haben.
-Wir hassen es wenn der Wind gegen die Haare bläst.
-Wir schauen 10x am Tag in den Kühlschrank ohne etwas zu essen.
-Wir müssen das Handy anrufen um es zu finden.
-Wir können auf die Uhr gucken und wissen danach nicht wie spät es ist.
-Wir stehen im Laden und wissen nicht mehr was wir einkaufen wollten.
-Wir drehen das Kissen um, um auf der kalten Seite zu liegen.
-Wir stellen unseren Wecker früher um noch liegen bleiben zu können.
-Wir zählen vor dem Einschlafen wie viele Std wir noch schlafen können!
-Wir laufen in ein anderes Zimmer und wissen dann nicht mehr was wir dort machen wollten
-Wir suchen unsere Brille obwohl wir sie aufhaben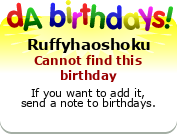 = Not Watched

= Startet Watching

= Done Watching



Durarara


Karneval (only the Manga)


Bleach


Black Butler (only the Manga)


Soul Eater


Toriko


Fullmetal Alchemist Brotherhood


Katekyo Hitman Reborn


HunterxHunter


D Gray Man


Free! Iwatobi Swim Club


Death Note (only the Manga)


Defense Devil (only the Manga)


K-Project


Hetalia


Angel Beats


Air Gear


One Piece


Fairy Tail (only the Manga)


Ao No Exorcist


Servamp


Inuyasha


Pokémon


Naruto


Elfen Lied


Sword Art Online


Nisekoi


Dramatical Murder (season 2)?


Kagerou Project


Attack On Titan


Noragami (season 2 where is it)? ;_;

Yaoi Anime *_*


Sekaiichi Hatsukoi (i wait for season 3) ;_;


Junjou Romantica (i want season 3 for this too) ;____;


Koisuru Boukun (why only 2 episodes?) ;_;


Kirepapa


Seito Kaicho ni Chuukoku


Sensitive Pornograph


Ai No Kusabi (remake)


Love Stage


Papa to kiss in the dark


Fish in the Trap


Close the last Door


Shounen Maid Kuro-kun Tenshi no Uta


Boku no Sexual Harassment


Sex Pistols


Ikoku Irokoi Romantan


Hybrid Child



My Favorite Animes/Mangas




My Favorite Singer and Bands



Other stuff about me...


Trafalgar Law!!!

I Love Him!!!