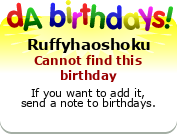 = Not Watched

= Startet Watching

= Done Watching



Durarara


Karneval


Bleach


Black Butler


Soul Eater


Toriko


Fullmetal Alchemist Brotherhood


Katekyo Hitman Reborn


HunterxHunter


D Gray Man


Free! Iwatobi Swim Club


Death Note


Defense Devil (only the Manga)


K-Project


Hetalia


Angel Beats


Air Gear


One Piece


Fairy Tail (only the Manga)


Ao No Exorcist


Servamp


Inuyasha


Pokémon


Naruto


Elfen Lied


Sword Art Online


Nisekoi


Dramatical Murder (season 2)?


Kagerou Project


Attack On Titan


Noragami


Tokyo Ghoul


Btooom


Psycho Pass


No. 6


Orenchi no furo jijou


Haikyuu


Yowamushi Pedal


Gekkan Shoujo Nozaki-Kun


Ookami shoujo to kuro ouji


Your Lie in April


Bakumatsu Rock


Sukitte Ii na yo


Akagami no Shirayukihime


Hotarubi no Mori e


Yamada-kun to 7-nin no Majo


Kyoukai no Kanata


Ore Monogatari


Kimi ni Todoke


Mayo Chiki


Endride


Cheer Boys


Orange

I love it!


Brave 10


Monster Musume no Iru Nichijou


Toradora


Handa-kun


Barakamon


Kimi to Boku


Nodame Cantabile


Tanaka-kun wa Itsumo Kedaruge


Sakamoto Desu ga


Netoge no Yome wa Onnanoko ja Nai to Omotta?


No Game No Life


Amaama to Inazuma


Gugure! Kokkuri-san


Kare Baka: Wagahai no Kare wa Baka de R


Ano Hi Mita Hana no Namae o Bokutachi wa Mada Shiranai


Arakawa under the Bridge


Yuri on Ice


Kyou, Koi wo Hajimemasu


Amagi Brilliant Park


Gingitsune


Inari, Konkon, Koi Iroha


Udon no Kuni no Kiniro Kemari


Uta no Prince-sama Maji Love Legend Star


Watashi ga Motete Dou Sunda


Hoozuki no Reitetsu

Yaoi Anime *_*


Sekaiichi Hatsukoi (i wait for season 3) ;_;


Junjou Romantica


Koisuru Boukun (why only 2 episodes?) ;_;


Kirepapa


Seito Kaicho ni Chuukoku


Sensitive Pornograph


Ai No Kusabi (remake)


Love Stage


Papa to kiss in the dark


Fish in the Trap


Close the last Door


Shounen Maid Kuro-kun Tenshi no Uta


Boku no Sexual Harassment


Sex Pistols


Ikoku Irokoi Romantan


Hybrid Child


Gravitation


Loveless


Yami no Matsuei


Togainu no Chi


Seiyou Kottou Yougashiten Antique



My Favorite Animes/Mangas




My Favorite Singer and Bands



Other stuff about me...


Trafalgar Law!!!

I Love Him!!!


Sekaiichi Hatsukoi